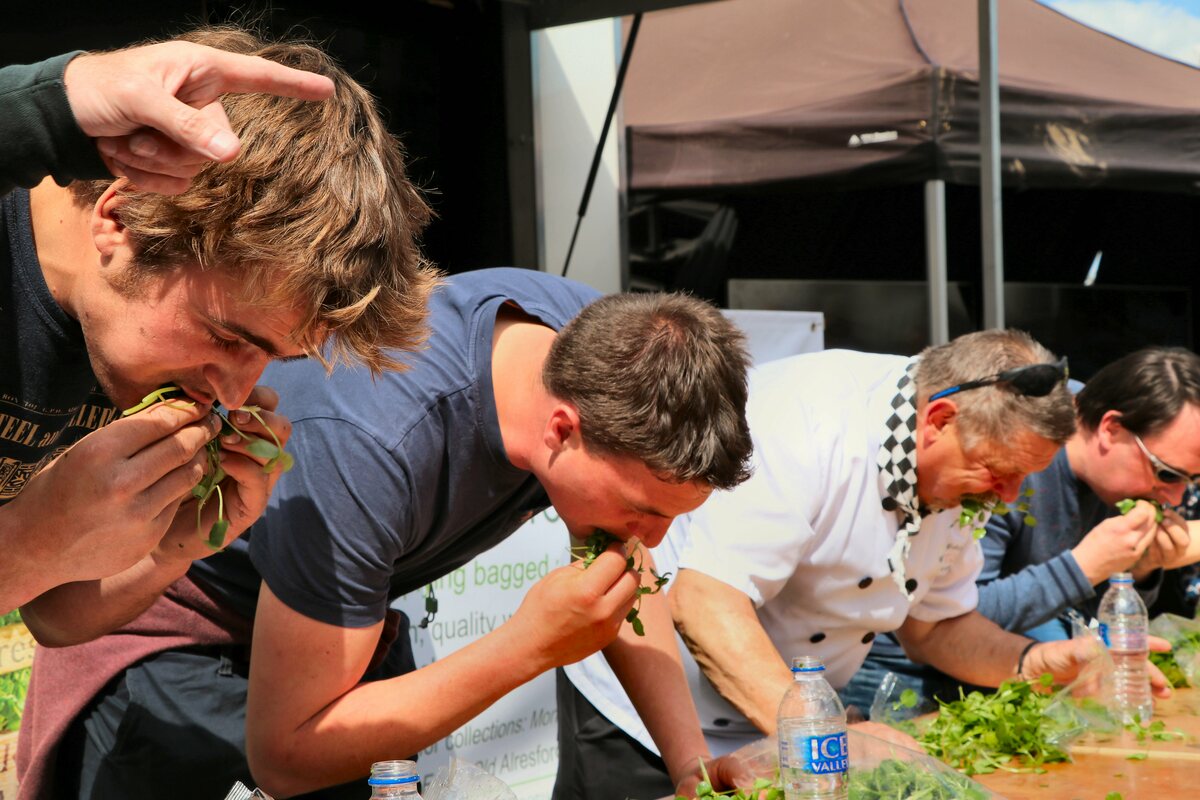 MUSIC
This is the schedule for 2023 - please bear in mind that times may change slightly.
Main Stage in Broad Street
10:30 Alresford Ukulele Jam our very own local Ukulele Band
11:15 Sun Hill Juniors Song and Dance
11:30 Sussex Jazz Kings - classic jazz tunes
12:00 Pete Harris Trio South Coast Blues and foot-tapping rhythm
13:00 Sussex Jazz Kings - back with more jazz classics
14:00 TUTO Marcondes & BrazUKas Rio Carnival-style performers
14:50 Watercress Awards - presentations
15:00 Watercress Eating Championships – sign up from 14:30
West Street - in the street
St. John's Church

10:30 Sun Hill Infants Song and Dance
12:00 Godalming Brass
13:00 Mega Ukulele Jam singalong with Alresford Ukulele Jam
15:00 Winchester Rock Choir
COMPETITIONS & AUCTION - 2023
"Barters Best 2023 " - In memory of a dear friend the most awesome use of watercress competition has been renamed.
The 2023 Winner was the amazing Watercress and Beef Burgers from Soles
The AWF Raffle 2023 - Winners

£400 Cash First Prize - Ticket No 00707
Lainston Cookery Class - Ticket No 00715
Yeti Roadie Donated By Socal BBQ shop - Ticket No 00558
Gin selection hamper with donations from The River Test Gin, The Naked Grape, Remarkable Drinks & The Watercress Company. Also tour & tasting for 2 with Gorilla Gin! - Ticket No 0084
A priceless Experience Day at UK Wasabi farm, Tour and Tasting – along with some Wasabi Vodka and goodies. - Ticket No 0395
Mixed selection of 12 local beer from The Flowerpots Brewery - Ticket 00419
A selection of local "fizz" including a tour and tasting for 2 people at Hattingley Valley, with donations from Heresy - Ticket No: 00089
Kindly donated by The Watercress Line - A footplate ride (*) on the steam train from Ropley to Alresford return for 2 guests at next year's Watercress Festival, including free parking at Ropley! - Ticket No: 00790
Hampshire Farmers Market Hamper – plenty of delicious local goodies Ticket 00212
Watercress BBQ hamper, fresh watercress, Watercress sausages & a bottle of Watercress Gin kindly donated by The Watercress Company - Ticket No 3714
An evening with Razor Ruddock. Worth £49 – donated by Alresford Football Club - Ticket No: 00562
A free flight and mini cheeseboard at the Raimes tasting barn on a Thursday or Friday – includes 3 different glasses to taste. - Ticket No: 00331
Charity Auction - following his demonstration Mark Hix will be auctioning off his Demo Dishes along with other items which include:

£100 Voucher for Hix Restaurant
Watercress BBQ hamper worth £50, fresh watercress, Watercress sausages and a bottle of Watercress Gin
Experience day at UK Wasabi farm, Tour and Tasting
Watercress Eating Competition - this needs no introduction. Sign up from 2.30 pm at the main stage to attempt to take down the champion! How quickly can you devour a bag of watercress with just a small bottle of water to wash it down.